Diamond Hand Pads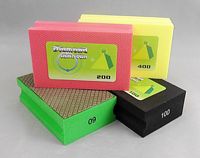 Diamond hand pads are ideal for smoothing the edges of your glass.
To use, start with a coarse pad and use until the edges of the piece are uniformly smooth. Then switch to the medium grits -- 100, then 200 -- and make the piece even smoother. Continuing with a 400 grit will leave you with a finish will fire polish beautifully. A 600 grit finish leaves a beautiful smooth matte that doesn't require fire polishing. Use with a liberal amount of water.
You can also use the 400 pad to smooth small needles and minor imperfections from the edges of your fused glass.
We sell the pads individually by grit or in a set of four of the most common grit sizes (60, 100, 200, 400).
Special sale.  Save $10 on a set of four hand pads!
Regular $69.99. Only $59.99.
---