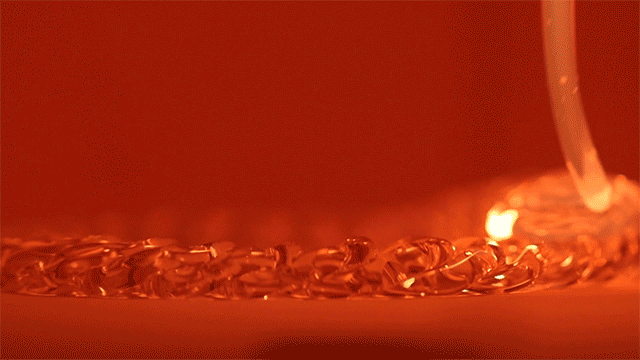 Mediated Matter, a group that works with MIT's Glass Lab, has developed an absolutely amazing way to make glass.  Using a device that combines the kiln with a 3-D printer, they are able to shape molten glass into three dimensional shapes.
The process starts with a a kiln that has two chambers.  The top chamber heats the glass to 1900F/1040C, after which it is extruded though a nozzle that moves back and forth as programmed.  The bottom chamber slowly cools the glass pieces, so that it is annealed properly and survives the firing without cracking.
The resulting pieces are built up in layers to form glass vessels and sculptural shapes.  They're crystal clear and can range from built-up concentric circles to more elaborate, programmed shapes.
For additional information and photos, including a video of the process, check out this link:  http://matter.media.mit.edu/environments/details/g3dp
Photo to right by Chikara Inamura.