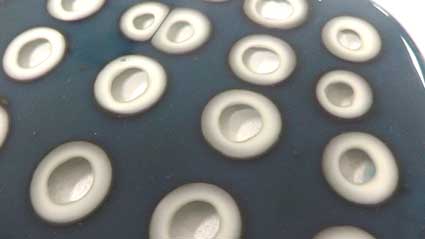 Exploring the Bubble Up
Saturday, May 30 to Sunday, May 31, 2015
Instructor: Brad Walker
The Bubble Up, which was developed at Warm Glass Studio, is a unique technique in which glass is arranged and fired to create clear areas in a particular pattern. The resulting pieces have a series of round clear areas, spaced either in lines or randomly throughout.  
In addition to learning the basic bubble up technique, we'll explore a number of different ways to control the bubbles, including variations in size, spacing, and bubble patterns.
You'll leave with several sample tiles of different layouts and one complete larger bubble up piece.
Familiarity with glass cutting and with basic fusing and slumping techniques is helpful. All materials will be provided.
All levels, two days Price: $295
10:00 to 4:30 first day, 10:00 to 3:00 last day