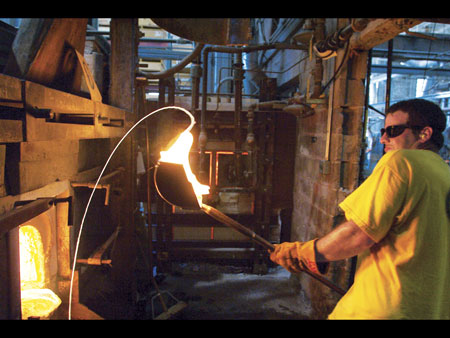 You may have heard some rumblings about Bullseye and their recent production issues.  There seem to be a lot of crazy rumors going around (including one in which we were told they were out of business), so we thought we'd share the facts (as best we know) about the current situation.
In February of this year The Oregon Department of Environmental Quality (DEQ) found high levels of cadmium and arsenic in the air around Bullseye's and Uroboro's glass factories in Portland.  At that time both companies voluntarily agreed to stop making glasses that contained those chemicals.  That includes most red, yellow, and orange glasses.
In March of this year, the DEQ asked the companies to also stop making glasses that contained chromium.  This includes many greens and some blues.
Bullseye stopped making glasses with those chemicals, but continued making other glasses.  The company also began the process of procuring and installing devices to filter the chemicals and keep them from getting into the air.
Bullseye has announced that the equipment has been installed on one of their furnaces and limited production of cadmium containing glasses would start this month. They also announced that tests on chromium would start at the end of the month and that stocks of chromium and cadmium glasses would be low for several more months.
Bottom line,the good news is that Bullseye is moving to install the required pollution control devices on their furnaces.   The bad news is that some glasses will be hard to obtain from Bullseye for at least the next few months.
On the positive side, Warm Glass has a good supply of reds, oranges, and yellows available for sale.  That should tide us through the the next few months.  We expect shortages on some colors, but currently have many in stock.  And remember, glasses that don't contain cadmium, chromium, or arsenic are not impacted at all.
April 13, 2016
Photo of Bullseye employee gathering glass from furnace courtesy of Bullseye Glass.