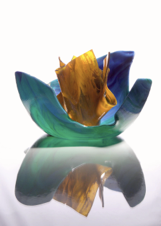 How to Photograph Your Glass
Saturday, June 22, 2019
Visiting Instructor: Michael Davis
This class is geared toward anyone who would like to have help in achieving better images of their glass creations. Whether you are using high end amateur cameras or simply your cell phone, this class will give you the techniques to use to get the images you desire.
Topics to be discussed will include basic composition, scale, reflections, exposure, and lighting techniques using various light sources commonly available to everyone. Once captured, participants will use various Apps and techniques to get their images ready for posting on social media, to websites, to accompany applications for juried shows, and even prints.
Even if you have never taken pictures of glass before, you will learn what is necessary in getting a good picture to show off your artistic creations and have some fun in the process.
Instructor's Bio:  Michael is a professional photographer, artist, sculptor, and aspiring glass artist. He has taken the techniques he commonly used in commercial photography and modified them into simple ways for any artist to better photograph their glass creations. Using these techniques Michael's glass art has been exhibited in various galleries and shows across the nation.
All levels, one day.  Price: $195
10:00 to 4:30