The Business of Glass pdf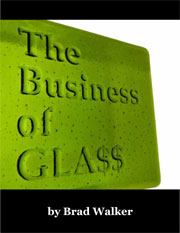 Want to turn your glass hobby into a business?  Or just learn to make your existing business more profitable?  This new pdf is just what you've been waiting for.  Topics covered include starting a business, taxes, record keeping, pricing, and ways of selling your glass. From craft shows to galleries, from taking credit cards to writing artist statements, this 52 page pdf covers all the basic information needed to build a thriving, profitable glass business.
Although the pdf is designed for residents of the United States, with information focusing on US tax and financial considerations, many of the topics covered are appropriate for any geographical area.
Click here to see a pdf of the complete table of contents.
PDF format, 52 pages, ready for immediate download


SPECIAL PRICE -- only $15.00

Click button above to add to shopping cart.
Click button above to buy without using shopping cart.

Download available immediately.