2020 Ornament Exchange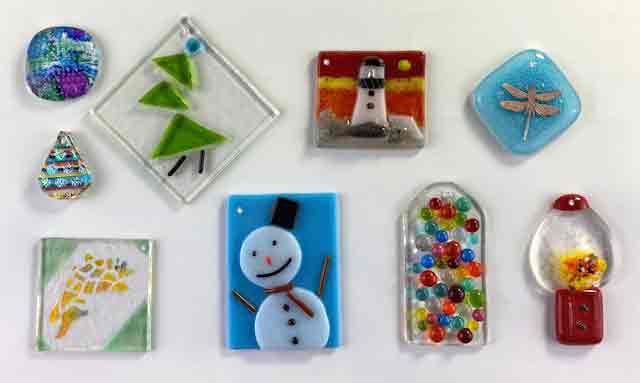 We are excited to announce our First Annual Ornament Exchange.
As some of you know, Warm Glass ran an annual "Magless Exchange" from 2002 to 2015.  We thoroughly enjoyed seeing everyone's creativity and techniques come alive in your magnets.  We decided it is time to bring it back but change things up by doing ornaments this time! For those of you that are interested in participating here is what you need to know.

The exchange works this way. After signing up, you'll agree to make a group of ornaments -- up to 50 -- for other participants in the Exchange. The ornaments you make are sent to Warm Glass.  We'll sort them so that every participant gets an ornament from all the other participants, then we'll send a sorted batch back to you. So in exchange for participating you'll get a bunch of ornaments with different designs!


Important Dates

Please register by September 19th, 2020. A $20 fee will be due at time of registration to save your spot. This non-refundable fee will cover the cost of postage to send the ornaments back to you after processing.  You will be responsible for shipping completed ornaments to us.  (Important: for international participants the shipping may be higher so please contact us before registering if you live outside the US.)

We will finalize the number of participants – and the number of ornaments you'll need to make – as soon as possible after September 15th.  To allow you to plan better, we will limit the Exchange to around 50 participants.

If you missed the registration date, please contact us to find out if there is still room to be added or to be put on a waiting list as an alternate.

Ornaments must be received by November 14th. Please don't be late! Ornaments will be sorted starting the 14th and be shipped as soon as possible after that.

 

Now the fun part!

Please use an original idea for your ornament.  Ornaments do not have to be Christmas themed, just something that would look great hanging anywhere, even in your window.

Size: Minimum size 1"x 1" (2.5cm x 2.5 cm). Maximum size around 2" x 3" (5cm x 7.5cm) Any shape is allowed, just make sure to keep the size under control.

All ornaments must be made in the kiln. (for example, by fusing, casting, high temp methods, frit, paints, metal inclusions, kiln carving, etc.)  Non glass embellishments are allowed as long as the main body of the ornament was fused in a kiln.·   

Glass type is not a requirement. Any brand/COE is acceptable.

 Ornaments need to be able to be hung. Please drill a hole, glue a bail, or use some system in order to make these hangable. (Attaching string is not required, just the ability to be able to hang the ornament.)

If possible, sign your ornament. You can use an engraver, glass paint, deco pen, or sticker. This step is not required but highly recommended so others will know who made what ornament once they've been unwrapped.
Mailing Instructions

Upon completion, ornaments are to be bagged in plastic bags and if possible labeled with your name on the outside of the bag. Please make sure the ornaments are padded well enough to survive shipping.

Please enclose a return address mailing label with your shipment to Warm Glass. We will ship via USPS Priority Mail, so post office boxes are acceptable.

Mail your ornaments to:
Warm Glass Gallery & Studio
2575 Old Glory Road
Suite 700
Clemmons, NC 27012

 
Thank you for being a part of our ornament exchange. We look forward to seeing everyone's designs and creativity!
to register for the Ornament Exchange.  
This link goes to PayPal -- you can pay the $20.00 registration fee with PayPal or with any credit card.  No PayPal account is required.