Binders
A binder is a liquid that is mixed with the enamels to create "paint" of the desired consistency. We recommend and use A-14, which is a water miscible medium that is non-toxic and cleans up with water. It's is ideal for mixing with enamels for painting or screen printing. If you prefer an oil-based medium, we also sell Squeegee Oil.
Klyr-fire and A-13 are two other mediums that can be used with enamels. Klyr-fire is not recommended for mixing with enamels for painting, but can be used as a fusing glue or in less demanding applications such as airbrushing. A-13 is an acrylic medium that is a bit thinner than A-14. It works well for screen printing enamels.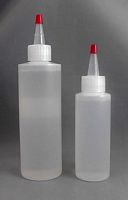 A-14 water miscible medium.
Our preferred medium for mixing with enamels.
Can be used in all applications.
Eight ounces (226 grams): $25.99
Four ounces (113 grams): $13.99
---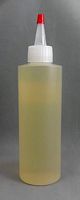 A-13 acrylic medium.
For air brushing or screenprinting.
Not recommended for painting.
Eight ounces (226 grams). $19.99
---