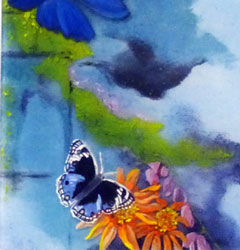 Creating with Glass Enamels
Saturday, September 15 to Sunday, September 16, 2018
Instructor: Jody Danner Walker
Special two day version of Jody's enamel workshop.  If you're new to enamels, this is your opportunity to learn a whole new way of painting on glass. If you have previous experience with enamels, but want to learn to do more with them, then this is your chance to develop and expand your ability to use enamels in fused glass.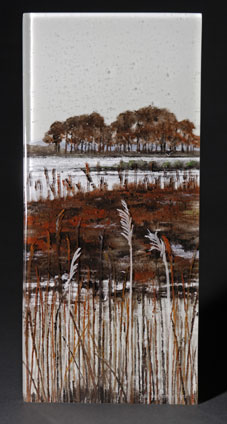 We'll work with Sunshine Enamels, a premium line of enamels made for painting.  Not only will you learn to mix enamels properly, you'll learn to combine colors to make new ones, to paint onto glass, and to fire enamels in the kiln so that they mature to their brilliant full potential. Once we have the basics down, we'll begin working on single layer pieces.
Open to anyone with basic fusing experience. No previous painting or drawing ability is required or necessary. All materials are provided and no prior experience is necessary.
Two days Price: $395
10:00 to 4:30 first day, 10:00 to 3:00 last day