Intermediate Fusing Techniques
Saturday, October 6 to Monday, October 8, 2018
Instructor: Brad Walker
Got the basics down and want to know what's next?  Or just ready to round out your fusing arsenal with some new techniques?  Then this is the workshop for you. 
We'll cover a myriad of intermediate techniques, from reactive glasses to crackle to pattern bars to iridized glass to mica and more.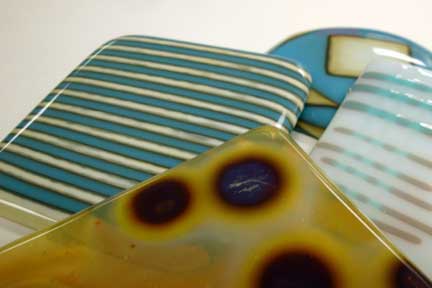 The workshop includes an overview of the principles of reactive glasses, in which the chemicals in certain glasses and metal foils react to create additional colors and special effects. These effects, which can be subtle or dramatic, can be controlled and used to give your glass pieces a unique look.
It also concentrates on making basic pattern bars that can be sliced and refired.  We'll use them to make a complete fused and slumped bowl.
We'll also explore the crackle technique in glass. This begins by manipulating glass powder, then firing to achieve a unique crackled appearance in the final piece.
Along the way we'll also explore ways of working with iridized glasses, where the manufacturer has coated the glass with a metallic layer that shimmers when hit by light. And we'll also touch on the use of mica in fused pieces.
No matter your skill level, you're bound to learn something new in this intensive, hands-on workshop.
A knowledge of basic fusing principles is required, as is the ability to cut glass.
Three days Price: $425
10:00 to 4:30 first two days, 10:00 to 3:00 last day