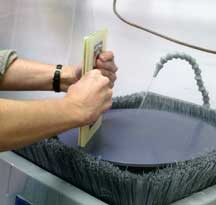 Coldworking and Finishing
Saturday, November 10 to Sunday, November 11, 2018
Instructor: Jody Danner Walker
Coldworking is the difference between making an ordinary piece and making one that will stand out from the crowd.  Almost every coldworking tool has multiple purposes, ranging from the industrial to the artistic.  Jody will cover this range.
Equipment covered includes the lap wheel, tile saw, and the wet belt sander.  Sandblasting and engraving will also be covered, as well as coldworking using diamond hand pads and loose grit.   
Whatever your experience level, from beginner wanting to take that next step to more experienced artist looking for some tips to help improve your work, you're sure to learn something new and useful in this fast-paced overview of coldworking techniques.
We'll have practice pieces for you to work with or you can bring your own.  And best of all, Jody will guide you through the steps required to turn a piece that only your mother would love into a finished work that you'll be proud to share with your entire neighborhood.
All levels, two days Price: $295
10:00 to 4:30 first day, 10:00 to 3:00 last day