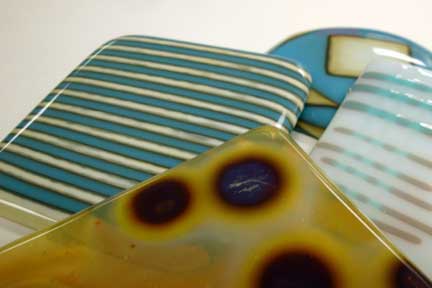 Intensive Introduction to Fusing and Slumping
Thursday,January 24 to Sunday, January 27, 2019
Instructor: Brad Walker
Whether you're a beginner or just in need to taking your fused glass hobby to the next level, this is the workshop for you!  We'll spend four days covering everything from the basics to a host of intermediate techniques.  And you'll leave with everything you need to design, fire, and finish fused glass projects.
Topics covered will include:
Basic glass cutting, safety, and firing schedules
Kilnforming equipment, from kilns to tools to coldworking
Fusing with texture, with shine, or with a matte finish
Slumping, draping, and other ways to shape the glass
Troubleshooting and fixing problems
Glass reactions
Using metals with glass
Creating texture in glass with kilncarving
Using powder and frit
In addition to dozens of smaller test tiles, students will make three larger pieces that incorporate the techniques learned in the class. And by the time the workshop is over, you'll leave with a smorgasboard of new techniques and a full understanding of the art of working with glass in a kiln.
All materials provided, no experience necessary.
Four days at a bargain price:  $450
$195 for the first two days only, or $275 for the last two
10:00 to 4:30 first three days, 10:00 to 3:00 last day