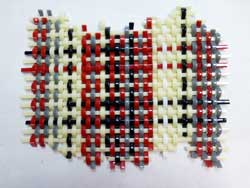 Glass Weaving in a Day
Saturday, March 7, 2020
Instructor: Brad Walker
Got a day to spend?  Get out of the heat and come by our studio and learn to weave glass.  We've cover two different ways of weaving -- the traditional method where strips of glass are woven together and a simpler "false weave" that can be used to create a woven glass bowl.
You'll learn our secrets of cutting glass strips, the best way to slump strips, how to form the weave, and firing schedules that work every time.  Even more, you'll get to keep the weaving mold you use in the class.
All materials included, no experience necessary, but familiarity with glass cutting is helpful.
All levels, one day.  Price $150   10:00 to 4:00 on Saturday, March 7