Ceramaguard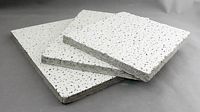 Ceramaguard is a commercial ceiling tile that is manufactured by Armstrong. It is the only ceiling tile that can withstand fusing and slumping temperatures in the kiln.

Because Ceramaguard can be easily cut with a craft knife or any woodworking tool, it makes a great drop ring. If backed with a heavier material, it can also be used as an inexpensive dam material. Just cut to size, kiln wash, and use in the kiln.
Please note: the edges of the Ceramaguard may be slightly ragged. Also, note that due to its weight Ceramaguard is very expensive to ship to locations outside the continental US. If you live outside the continental US and are interested in purchasing Ceramaguard, please contact us to get an estimate of shipping costs before ordering - the calculation in the cart may not be accurate for those locations.
---