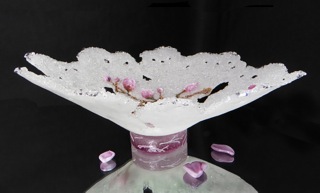 Pate de Verre Sucré with Jody Danner Walker
June 10 to 13, 2021
Instructor: Jody Danner Walker
At last!  After many requests, Jody offers a workshop that covers the techniques she uses to create her beautiful free-flowing Pate de Verre Sucré sculptures.  Pate de Verre Sucré, so-named because the pieces have a sugar-like texture, rather than the smoother texture more commonly found in Pate de Verre, is a technique that Jody developed and perfected over many years.
This special workshop will cover every facet of Jody's technique, from creating your own mold to mixing colors to assembling and firing.
This is a hands-on class in which students will learn to use existing molds or create their own molds. 
Experience with basic kiln processes is helpful, but not required. 
 All levels, four days         Price: $895
10:00 to 4:00 first three days, 10:00 to 1:00 last day