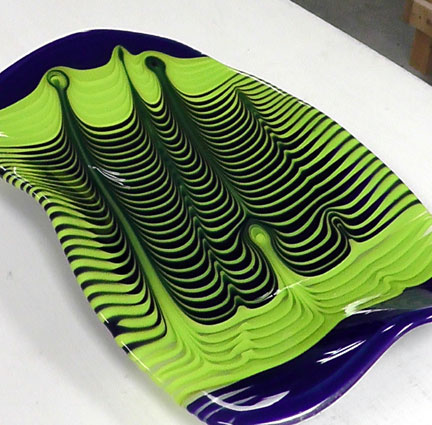 Some Like It Hot: Combing and More
Saturday, August 15 to Sunday, August 16, 2020
Instructor: Brad Walker
Combing, or  manipulating molten glass in the kiln, is one of the most exciting kiln processes.  We'll learn how to do it safely, with the goal of creating and completing a large combed platter like the one at left. We'll also try our hand at a high temperature melts such as pot and wire melts.
Here's a perfect opportunity to learn about high temperature firing in a safe, secure environment. In addition to getting the chance to reach inside the kiln and manipulate molten glass, we'll also learn about finishing our pieces and taking them from flat blank to final work of art.
Familiarity with glass cutting and with basic fusing and slumping techniques is recommended, but not essential. All materials will be provided.
All levels, two days Price: $295
10:00 to 4:30 first day, 10:00 to 3:00 last day