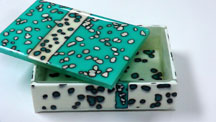 The Fused Glass Box
Friday, January 17 to Sunday, January 19, 2020
Instructor: Brad Walker
Learn to make distinctive fused glass boxes in a variety of shapes and sizes. We'll cover both basic rectangular boxes and more complex shapes like circles and ovals.
By the end of the course you'll have made at least three boxes using two different methods, and including one custom shape of your own design.  You'll learn to make lids for your boxes using two different approaches.  And you'll leave with boxes, lids, instructions, and firing schedules for making even more.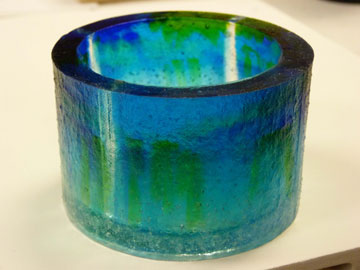 In addition to basic squares, rectangles, and circles, students have designed and created a wealth of unique, personal shapes, such as ovals, hearts, butterflies, stars, abstract designs, hexagons, and more.  
Comfort with glass cutting and with basic fusing and slumping techniques is essential. All materials will be provided.
All levels, three days Price: $450
10:00 to 4:30 first two days, 10:00 to 3:00 last day
Student work shown below: