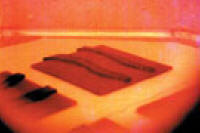 Introduction to Fusing and Slumping
Saturday, January 23 to Sunday, January 24, 2020
Instructor: Brad Walker
Whether you're a beginner or just need a refresher, this is the workshop for you!  We'll cover all the basics in two intensive days.
Learn how to cut, fuse, and slump glass in the kiln.  When you leave, you'll know everything you need to know to get started fusing glass.
In addition to the basics, topics covered include will include kiln and mold preparation, glass selection, project design, firing schedules, types of kilns, annealing, and compatibility testing. Students will make several small coasters/tiles or jewelry pieces and one larger slumped bowl or similar shape.
Just $195 for both days.  All materials and tools provided, no experience necessary, but familiarity with glass cutting is helpful.
10:00 to 4:00 first day, 10:00 to 3:00 the second day.